Dr. Anthony Kozma grew up in the Detroit area.  After graduation from high school, he attended Albion College in Albion, Michigan.  He was an active member of Tau Kappa Epsilon social fraternity and Theta Alpha Phi drama fraternity, graduating with degrees in both biology and theater.  He went on to medical school at Kirksville College of Osteopathic Medicine in Kirksville, Missouri.
After graduation he headed back to the Detroit area, where he completed his internship through Michigan State University and the Henry Ford Health System.  A Family Practice residency at the University of New England brought him to Maine.  Dr. Kozma is board certified by the American Board of Addiction Medicine.
Along the way, Dr. Kozma has completed more than 100 skydives and dozens of scuba dives. He is a devoted race car driver in the 24 Hours of Lemons racing series and has his private pilot's license. He has also been an active member of the Burning Man community since 2009.  He is an avid beekeeper and loves his 'family' of dogs who sometimes go to the office with him if they aren't too lazy to leave the house.
Dr. Michael Eng was born in Hopewell, VA but spent his childhood in the suburbs of Baltimore, MD.  He attended college at the University of Maryland at College Park and graduated with a BS in Biochemistry. He went on to Medical School at Duke University, but he left after 2 years, discouraged with the practice of medicine. He did environmental risk assessments for industry and toxicology research in academia for 5 years before returning to Duke to complete his MD in 1996. Still disappointed by the practice of medicine, he did residency and fellowship training in Anatomic and Clinical Pathology at Beth Israel and Mount Sinai Hospitals in New York City, and left for Maine just before the tragedy of 9/11.
He was a practicing pathologist at Central Maine Medical Center, Bridgton Hospital, Rumford Hospital and Parkview Hospital for 15 years. Alone in his office with a microscope and hundreds of glass slides, he experienced medicine with little human interaction. Increasingly his thoughts returned to his experiences in patient care. Perhaps the doctor/patient relationship wasn't the problem, perhaps it was the hospitals, the modern medical system, short appointments, too many medications and not enough honest, healing relationships. In the last few years, Dr. Eng has left pathology and hospitals and has worked in the fringes of traditional medicine, including addiction medicine, medical marijuana, weight loss and end-of-life care.
His family owns Camp Wigwam for Boys in Waterford, ME. His deep connection with the Maine Woods and the White Mountains developed since his early childhood on the lake, 17 years as a camper and counselor at Wigwam, and decades of returning to the simplicity and quiet of Bear Pond. Summer in Maine continues to feel like extended vacation, almost 20 years since moving here. Other sustaining resources in his life include his family, music and dance, running, long and complicated board games, reading, and Positive Psychology.
Kim Quinney– Office Manager.  She's the friendly voice you'll hear when you call to schedule an appointment, deal with an insurance issue, or find out how Snowball is doing.  She's the glue that holds it all together.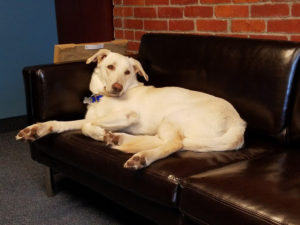 Snowball– Office Dog.  Snow joined the office in October 2016, shortly before her first birthday. She was Dr. Kozma's fifth foster dog, a surrender from Georgia who Dr. Kozma just couldn't give up.  She is often found laying around the office ready to have her belly rubbed, or sitting next to a patient who needs a bit more TLC than she does.